This article appeared in a previous issue of The Machine Cancel Forum. Information about this philatelic item and feedback about this article would be greatly appreciated.
This article is available as an Adobe PDF file:
Open the article as PDF [90k]
Do you need an Adobe PDF reader? Its free! Download it from here.
Now, on to the article.....
---
ANOTHER WHATZIT ?
I was rummaging around in my files a few days ago, and I came across a 3 x 5 piece of brown cardboard with a Canadian postal marking.

It appears to be a proof. Here is an illustration.
This piece goes back a long way, to the days when John McGee and John Koontz were editing FORUM . When I took on the respnsibility of editing FORUM, John McGee provided me with a hoard of material which had been unpublished, and this is one of those items which has lain dormant ever since.
My records are pretty good, yet Iím not sure who actually submitted this piece. I think it was from one Charles Addington who had sent in a number of snipets about the Canadian postal service.
According to Tony Shaman, writing in Linns (1988, May 9, p39), International Peripheral Systems Inc. was supplying new machines to Canada Post to replace the slower Klussendorf machines which had been installed between 1983 and 1988. The IPS machines came upon the scene in 1986 when one of the first of the new machines was installed at Langley, BC.
With reference to the above, I believe it may have been a proof (or example) from one the new International machines.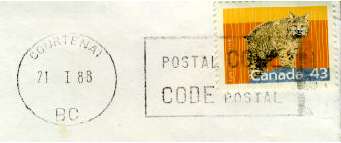 The date (15 Oct, 1984) suggests it may have been a proof or trial specimen, and it appears to be quite similar to an actual specimen from an IPS machine as shown.
What do you think ?
Comments to:User 5854@aol.com
---
Feedback always welcomed on our pages!
**** If you can read this text, your browser is not supporting Cascading Style Sheets (CSS). You may be running a text-only browser, or perhaps an older browser version. It is also possible that you are have disabled Javascript (Netscape). If you wish to see this page with all formatting in place, upgrade your browser, and/or enable Javascript. Sorry for the inconvenience. ****