Franklin - The Young Politician

Bob Payne


[From Machine Cancel Forum July 2005]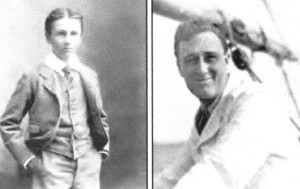 What are your expectations before a Stamp Show or finding a new stamp or junk shop with old covers, papers or books with some unique discovery, slim to none at best. A good friend of mine (MCS member) recalls a thrill of a lifetime. The story begins over three decades ago while rummaging through some old dusty and grimy law books that were free for the taking. After glancing through one of the law books, a letter fell to the floor and reaching for it he seen it had a flag cancel. Being a long time and renown collector of machine cancels, he safely tucked it away to examine it later in his upstate New York home.
Later that evening while looking at the letter, he notice the cover's flag cancel was one he had been searching for, a New York Type A-38 TRANS, OFF. / G.C. STA. (Transfer Office, Grand Central Office) dated Oct 18,1928. To his delight, it was a Special Delivery cover with a Scott # 562 - 10¢ Monroe and a # 599 - 2¢ Washington vertical perf.10 coil, but what really caught his eye was the corner card inscription in blue ink, Franklin D. Roosevelt. The letter was addressed to Mrs. Henry Austin of Moravia, New York, a small hamlet 40 miles southwest of Syracuse with a population of 1500. The illustrated cover has been reduced in size.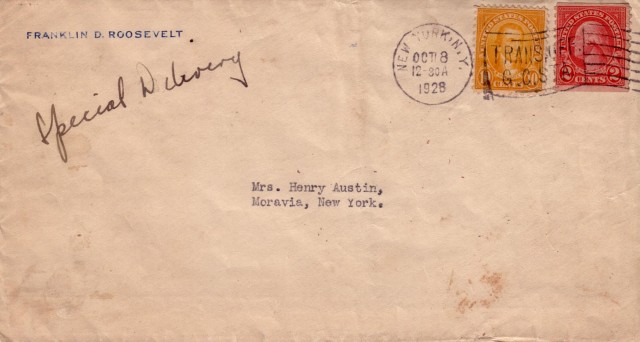 A great discovery he thought while admiring it and then he felt the letter inside the cover before placing his new find in his album of flag cancels. He was gratified that the letter also had a heading of Franklin D. Roosevelt with a return address of 49 East 65th Street, New York. But did the letter have any significance he mused as he read it. This is the letter he was reading:

Franklin Delano Roosevelt Letter to Mrs. Henry Austin, October 17, 1928
Some of you may be wondering why our future president, 4 ½ years later, would be writing a letter in 1928 to a Mrs. Henry Austin, when Franklin was a young 46 years of age.
The letter asking permission to use Mrs. Henry Austin name as a member of Citizens Independent Committee headed by the Chairmanship of Arthur Curtis James to elect Franklin Delano Roosevelt and Herbert Henry Lehman as the next Governor and Lieutenant Governor in the State of New York. The two distinguished men were elected in 1930 to head the State.
But what led to Franklin's amazing political career prior to his election as President:
Studied law at New York's Columbia University.
Passed the bar examination in 1907.
Practiced law with a prominent New York City law firm.
Entered politics in 1910.
Reelected to the New York Senate in 1912.
Supported Woodrow Wilson's candidacy at the Democratic National Convention.
Appointed as Assistant Secretary of the Navy in 1913, a position he held until 1920.
Nominated as the Vice-President by the Democrat Party in 1920 to be headed by James M. Cox of Ohio as the nominee for President. The Democratics were defeated.
In 1924, he nominated New York's Governor Alfred E. Smith as the Democrats' nominee for President.
Alfred E. Smith was nominated again in 1928 for the Presidency but was defeated.
Alfred E. Smith arranged for Franklin Delano Roosevelt to be the nominee and to run for Governor of New York in 1928 in which he was successful.
By 1930, Roosevelt began to campaign for the presidency. During the 1932 Democratic Convention in Chicago, he won the party's nomination as the presidential candidate.

Franklin Delano Roosevelt (1882-1945) became the 32nd President of the United States serving an astonishing four terms, longer than any President. During his presidency he was plagued by polio that he contracted in 1921, an infantile paralysis that crippled his legs for the rest of his life.

Herbert Henry Lehman (1878 - 1963) went on to be Governor of New York from 1933 to 1942 and had a distinguished career in Washington, D.C. holding many prominent positions.

If you are wondering, yes, this major discovery of a lifetime does bear the authentic signature of Franklin D. Roosevelt of major historical importance but also a fine addition to anyone's collection of flag cancels by my good friend of many years, Nicholas J. Todaro.
Additional Links



Web pages designed and executed by The Swanson Group
**** If you can read this text, your browser is not supporting Cascading Style Sheets (CSS). You may be running a text-only browser, or perhaps an older browser version. It is also possible that you are have disabled Javascript (Netscape). If you wish to see this page with all formatting in place, upgrade your browser, and/or enable Javascript. Sorry for the inconvenience. ****